Deutsch 101 Kultur- Texte
Instructions for Culture Assignments:
0. You will post your responses to the Kultur texts in Canvas Discussions.
1. For each chapter, there will be a list of roughly 4-6 short articles, videos, or links on topics related to the culture of the German-speaking countries. In addition, you will see the list of "Brennpunkt Kultur" boxes included in the chapter. Spend about 40-45 minutes reading the articles and the Brennpunkt Kultur boxes. (Note: the Brennpunkt Kultur info will be tested on the chapter tests. The articles will not.)
2. Then spend about 15-20 minutes writing a post (in English, but include as much German as you like!) with your reactions to what you read, and maybe some favorite quotes. It's great if you can include images, or links to other relevant articles, videos, or websites (some, or even most, of your post can be about these related materials, if they're relevant).
3. There is no particular length requirement, but your post should give your instructor the impression that you spent the suggested length of time reading the articles and writing your post. Remember to include your name as a label, as well as the appropriate "Kultur" label, i.e." Kultur1″ for the Kapitel 1 assignment," Kultur2″ for the Kapitel 2 assignment, etc.
Kapitel 1
Choose 2 or 3 of these "Easy German" videos to watch (choose 2 or 3 depending in part on the length: remember that we are asking you to spend a total of 40-45 minutes reading/watching, and then about 15-20 minutes posting):
Lesen Sie "Brennpunkt Kultur" in V [ignore the "Kulturkreuzung" sections]: Seite 11 ("Greetings and farewells"), Seite 16 ("Titles of address") und Seite 32 ("Where German is spoken"). The "Kultur" section of test 1 will refer to these articles.
Lesen Sie "Brennpunkt Kultur" in V [ignore the "Kulturkreuzung" sections] [These articles are from Kapitel 12, but we feel it makes sense to look at them now in Kapitel 1. The "Kultur" section of test 1 will NOT refer to these articles]: Seite 468 ("Der Einfluss der englischen und deutschen Sprache aufeinander": The influence of the English and German languages on each other), Seite 475 ("Amerikaner und amerikanische Kultur im deutschsprachigen Mitteleuropa": Americans and American culture in German-speaking Central Europe) und Seite 479 ("Deutsche und österreichische Einflüsse auf Amerikas Kultur": German and Austrian influences on American culture).
Kapitel 2
Note: Most of these articles include some humorous exaggerations for entertainment's sake ==> if something seems like an exaggeration to you, it probably is. In general, the cultural readings for German 101 and 102 won't just include texts that make the German-speaking countries look good. There are positive and negative things to be said about every culture, and we want to provide you with a variety of perspectives, not to indoctrinate you. And of course we want you to have a little fun :)
Most of these texts and those for the remaining chapters were written as an introduction to Germany for visitors to the 2006 soccer World Cup. They remain relevant and interesting, so please don't be distracted by references to "the upcoming World Cup" :)
The German National Pastime: Whining, Bitching and Moaning (Note the soccer info is out of date, especially since Germany won the World Cup in 2014. Note also this more positive take on German complaining from a Spring 2017 post: "At the same time, this culture of complaining and dissatisfaction may be part of the reason warum public services are so gut in Germany in the first place, by creating social pressure to perform better.")
Brutally Honest: "Have You Gained Weight?"

Here is a humorous take on German directness, by Oscar-winner Christoph Waltz
Please note: Germans can be very direct in a way that might be considered offensive in the U.S., but the point of this article is that when Germans are direct in this way, the intention is NOT to be offensive, but rather, simply to be honest and direct. As the article says at the end, "you may have to talk about it," i.e. the additional directness also opens the door for discussion.
Note that certain kinds of hate speech are explicitly illegal in Germany. Nevertheless hate speech happens, and has become more visible in recent years in Germany as in other parts of Europe. This article describes a disturbing incident from 2006 that reflects this trend.

Lesen Sie "Brennpunkt Kultur" in V: Seite 47 ("German immigration to North America") und Seite 76 ("Types of universities in Germany")
Kapitel 3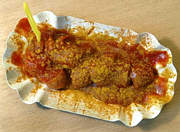 Choose 3 of the following 5 articles to read…:
…and read all of the following:
Lesen Sie "Brennpunkt Kultur" in V: Seite 95 ("Mealtimes in German-speaking countries"), Seite 97 ("The metric system") und Seite 106 ("Heidelberg and Mannheim")
OPTIONAL: Americans try German food for the first time You won't learn anything from this (it's a very random selection of foods — many Germans don't even know the licorice product they try at the end), but it's fun :)
Kapitel 4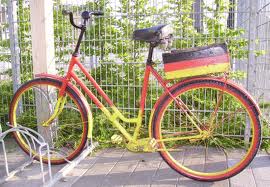 Lesen Sie "Brennpunkt Kultur" in V: Seite 123 ("Studienmöglichkeiten für Deutschlernende"), Seite 145 ("Rad fahren"), Seite 150 ("Mit der Bahn fahren"), Seite 157 ("Mit dem Auto fahren") und Seite 159 ("Frankfurt am Main")

Note some inaccuracies in the Frankfurt text: Frankfurt's airport is only the third busiest airport in Europe, and neither Deutsche Bahn nor Lufthansa has its headquarters in Frankfurt. It is, however, absolutely true that Frankfurt is the hub of Germany's banking and business community, and the location of Germany's stock market.
Note that Germany has in recent years introduced "Begleitetes Fahren ab 17", allowing 17-year olds to drive in the company of an adult over 30 who has had a driver's license for at least 5 years. This has been a success in terms of reducing the number of accidents by beginning drivers, and so there have been discussions of lowering the age limit for "Begleitetes Fahren" to 16.
Kapitel 5
Kapitel 6